Enabling & Support
Perth station
Note: In December 2015, Perth station will be retired from service. We'll post an update and details early in January. The core spacecraft-acquisition functionality of Perth has been taken over by a new antenna at New Norcia. This article will no longer be updated and is made available for historical purposes only.
Perth station hosts a 15-metre antenna with transmission and reception in both S- and X-band and provides routine support for XMM-Newton and Cluster, as well as other missions during their Launch and Early Orbit Phase (LEOP). It is located 20 kms north of Perth on the campus of the Perth International Telecommunications Centre (PITC), which is owned by Telstra, and is operated by Inmarsat Solutions B.V. for ESA.
Location
The coordinates of the 15-m antenna are -31° 48' 09.08", +115° 53' 06.58". The antenna is sited at 22.16 metres altitude with respect to the WGS-84 reference ellipsoid, a mathematically-defined reference surface that approximates the Earth's geoid surface.
Facilities & technology
In addition to the 15-m antenna, Perth provides facilities for tacking, telemetry, telecommand and radiometric measurements (ranging, Doppler, meteo).
The station has a frequency and timing system, a monitoring and control system and communications are enabled via the ESA Operations Network (OPSNET). The site is equipped with a no-break power plant. In addition, a concrete operating pad is available for transportable terminals and antennas.
Operations
Perth provides routine support to XMM-Newton, Cluster and other ESA missions. It has also provided LEOP support to other agencies, including France's space agency (CNES) for Helios-2A and Syracuse-3A.
Upgrading of the 15m antenna to transmit and receive in X-band (8 GHz) was completed in 2004. All Estrack stations are similarly being upgraded; the upgrading programme is important because standard S-band (2 GHz) communications will gradually be phased out.
The PITC site was originally home to a radio station used until 1986 by Australia's Overseas Telecommunications Commission (OTC), one of two entities which later merged and formed the Telstra telecommunications company.
Inmarsat Solutions operates ground stations for ESA at Perth and New Norcia, and additionally operates terminals for other agencies at Australian sites, notably Japan's National Aerospace Exploration Agency (JAXA).
GPS-TDAF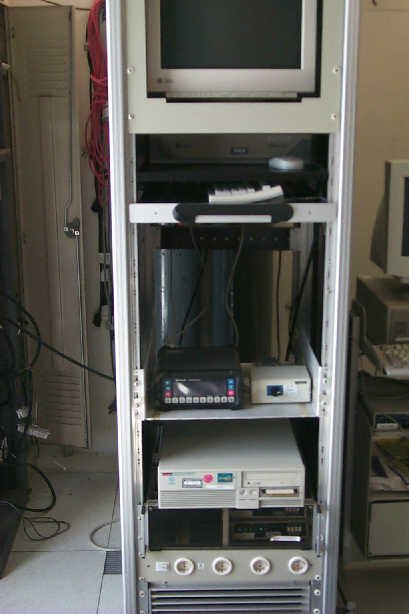 A GPS-TDAF (GPS Tracking and Data Analysis Facility) dual-frequency receiver system with geodetic accuracy is installed on the site, which delivers continuous measurements to the ESOC Navigation Facility.
Access & contact
Perth has an international airport with regular flights to overseas destinations, provided by various international carriers. Major car hire companies are at the airport.
The ground station is about 25 kilometres from the airport. The road route to the station is north on the Tonkin Highway, left onto Morley Drive, right onto Alexander Drive and then right to Gnangara Road. Perth has plentiful hotel and motel accommodation.
However, if accommodation is required in close proximity to the station, ask the Station Manager, giving maximum advance notice so they can arrange bookings.
The ESOC point of contact is:
Head of Ground Facilities Operations Div.
ESOC, Darmstadt
Tel: +49-6151-90-0
The local point of contact is:
Tel: +61-8-9302-0400
The postal address of the station is:
Inmarsat Solutions B.V.
Perth International Telecommunications Centre
P.O. Box 1115
Wangara
W.A. 6065
Australia