Enabling & Support
ESA's telecom and navigation vehicle ready for test driving
The radio spectrum is about to get even busier, as Europe's Galileo satnav system starts services, at the same time as ESA trials novel satellite-based telecommunication services. Supporting these developments from the ground, ESA's new custom-built Telecommunications and Navigation Testbed Vehicle will measure the resulting signals from all over Europe.
Procured to enhance the capabilities of ESA's Radio Frequency System Laboratories, the vehicle's first use will be in validating the performance of mobile receivers employing signals from Europe's Galileo satellites – an activity for which ESA's Radio Navigation Laboratory will be playing a fundamental role in system validation and service preparation.
Adapted from a Mercedes Benz Sprinter van, this unique measurement vehicle has been delivered to ESTEC by Austria's Joanneum Research institute.
"This is a dual-purpose vehicle, suitable for both telecommunications and navigation system testing," explained Simon Johns of ESA's Radionavigation Systems and Techniques Section.
"For navigation, we have the Galileo constellation coming on stream, as well as the stepping up of ESA's GNSS Evolution programme – designing what comes next after Galileo's first generation."
The four wheel-drive vehicle can host a three-person team, and is crammed with dedicated navigation and telecommunication monitoring equipment.
"One of the main goals driving the design was to have an 'easy to adapt' test platform suitable to set up test campaigns for different mobile satellite systems and standards that would require different types of antennas and specific receiver/transmit equipment," explained Olivier Smeyers of ESA's Communication-TT&C Systems and Techniques Section.
"On the telecommunications side, there is a continuous effort to enhance current and create new mobile satellite-based broadcast and interactive services via the evolution of current systems or developing new standards.
"Testing in the field is an essential element for validating and eventually establishing evolved or new standards.
"The vehicle has built-in multimedia equipment, including storage and control computers, multimedia gateway, passenger LCD screens, cameras and microphones, to serve this purpose."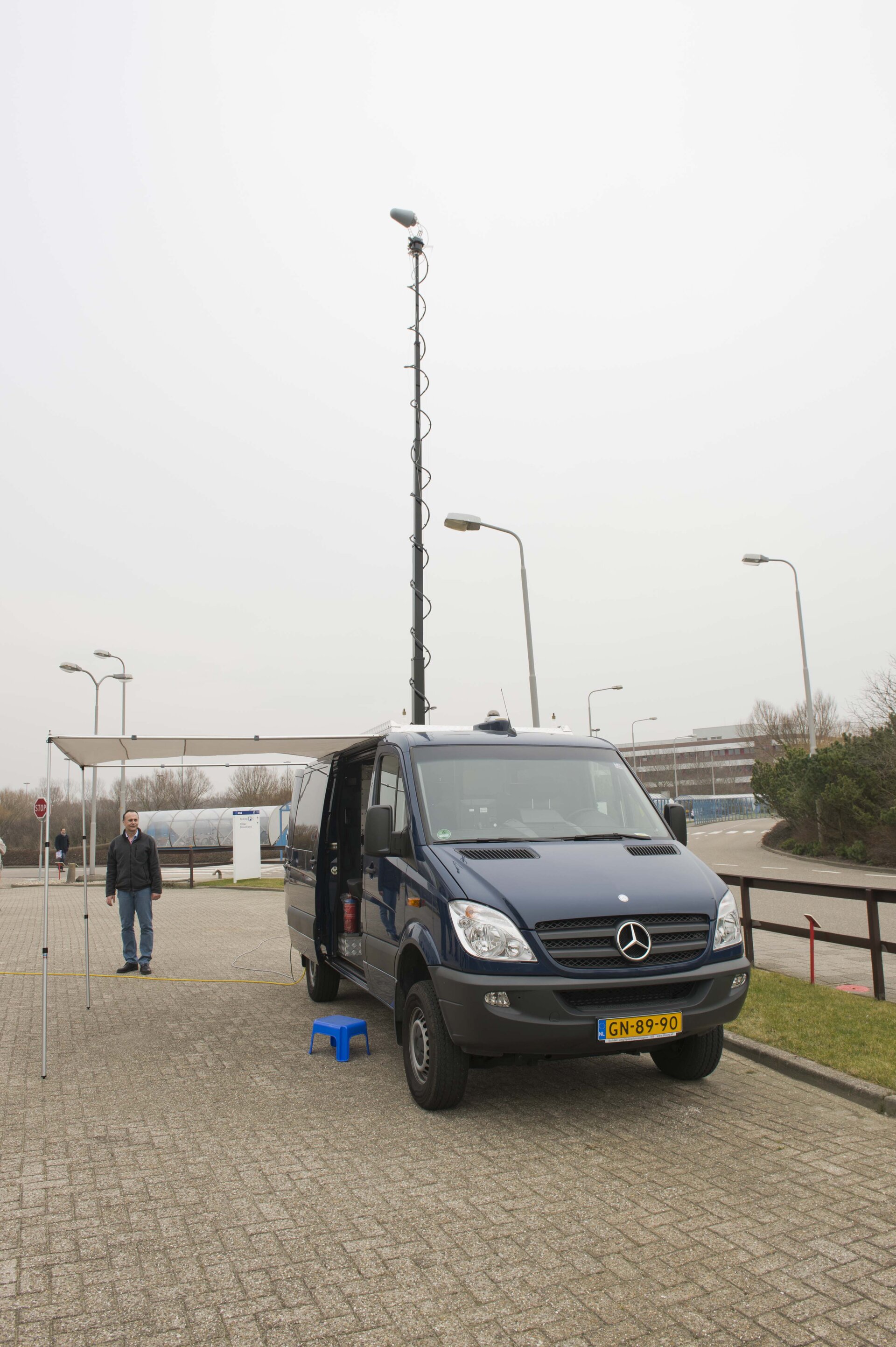 Vehicle features include two removable roof plates to mount specialised antennas (one currently hosts the antenna of a Broadband Global Area Network satellite terminal for Internet connectivity and multimedia and data streaming), an 8 m-high telescopic mast capable of carrying 25 kg, a rubidium atomic clock synchronised to GPS time with nanosecond accuracy, a high-end spectrum analyser and oscilloscope for signal measurements, and mobile temperature sensors to monitor the rack equipment.
A fisheye video camera incorporating onscreen GPS timings and positionings performs continuous recording of its surroundings – to throw light on high buildings, trees or other factors that might affect results.
Internal and external generators yield up to 5 kW to keep everything running – sufficient power to supply two typical European households.
"The challenge was to fit in all the equipment and provide the necessary power and air conditioning, while still weighing less than 3.5 tonnes," said Thomas Prechtl of Joanneum Research.
"Exceeding this weight would have meant drivers would have needed a special licence, and potentially limited its operations in some European nations."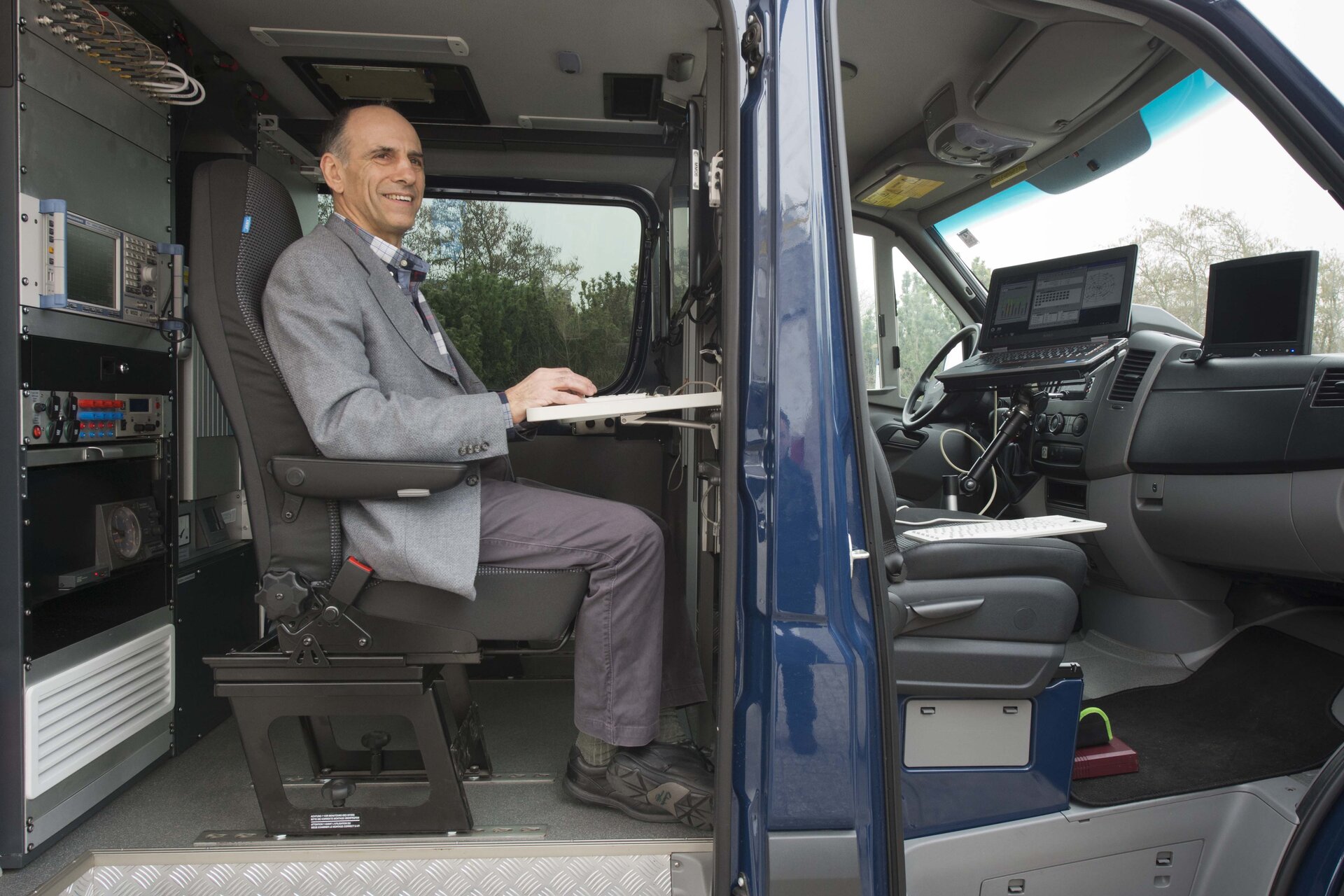 As it is, the Testbed Vehicle can in theory operate anywhere in Europe, from icy fjords to the sunny Mediterranean: its air conditioning system will keep both operators and equipment comfortable in outside temperatures ranging from –10ºC to +40ºC.
One equipment rack is devoted to telecommunications monitoring with a second for navigation, with a power rack in between. The van's engine-charged uninterruptible power supply batteries can provide power for measurements on full load for 45 minutes, with an additional pair of gasoline generators plus mains power connector for static observations.
An intelligent power system can switch seamlessly between sources without interrupting data gathering.
"The structural work was performed by the Dlouhy company, based in Tull near Vienna, who specialise in preparing broadcasting, police and similar vehicles," added Mr Prechtl.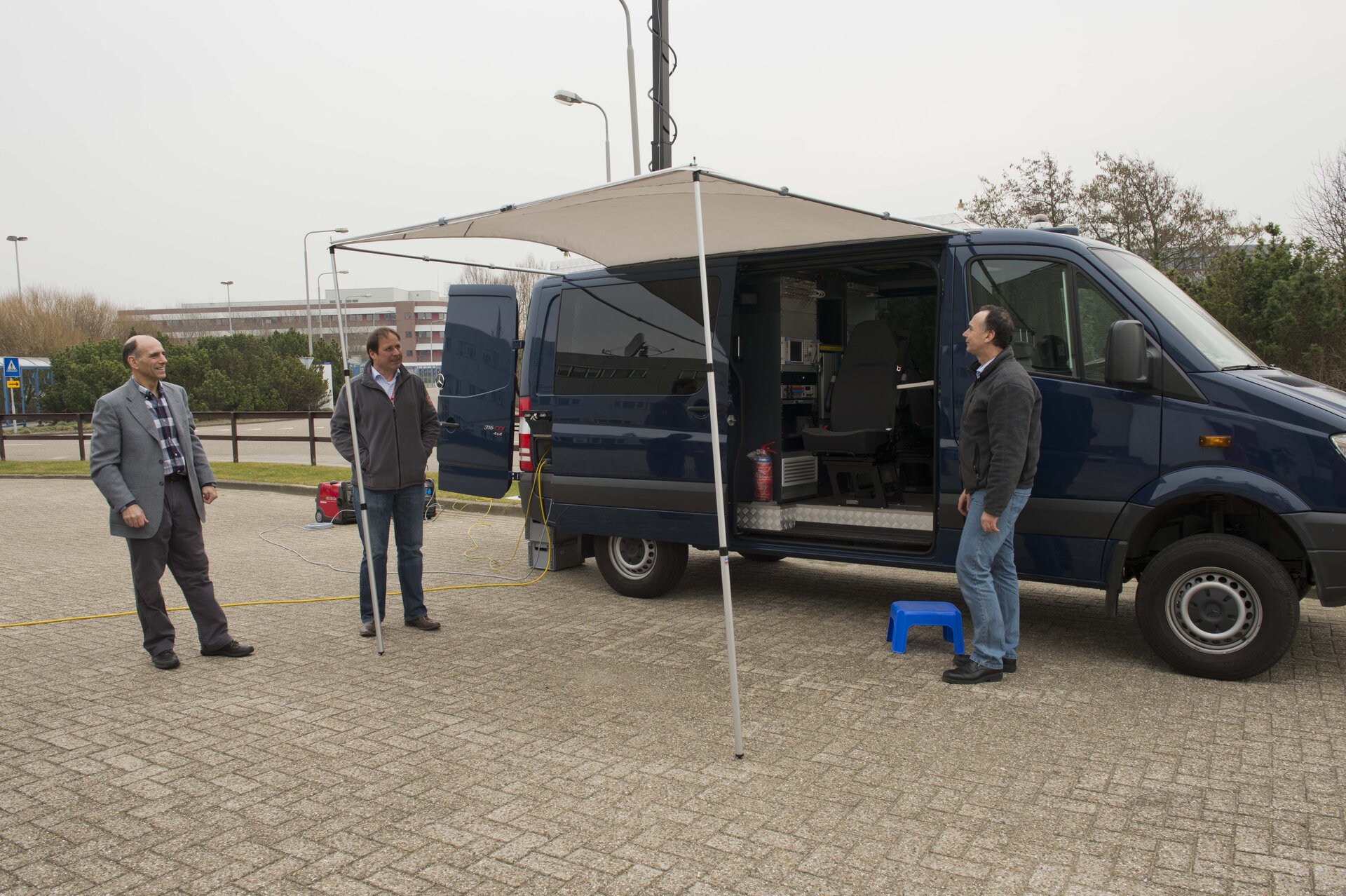 "We worked closely with Mercedes Benz throughout, who advised on issues like keeping the vehicle's weight distributed in line with its structure and ensuring any additional installations would be compatible with the Sprinter's Canbus-based electronics network.
"Now the vehicle has been certified for use on European roads and is ready for ESA to put it to work."