Science & Exploration
ATV history
Since 1987, European industry under ESA's leadership performed concept and system studies of an Automated Transfer Vehicle.
As early as 1988, several European countries made the political commitment to take part in the International Space Station by signing the Intergovernmental Agreement with the United States and the International Space Station participants.
In 1992 ESA started a joint study with NASA to define ATV missions to what was then called Space Station Freedom and later to the International Space Station. The following year, ESA and the Russian space agency agreed to study possible missions of an ATV to space station Mir 2 — a follow-up programme of Mir — and later on, to the Russian segment of the International Space Station.
After Russia joined the International Space Station programme, it was decided to build ATV in 1994. In February of that year, the 111th ESA Council meeting in Paris gave its consent to the Manned Space Transportation Programme, which included the Automated Transport Vehicle.
At the ministerial ESA meeting held in Toulouse in October 1995, formal approval was given to the ATV full development programme. Among the International Space Station partners, ESA represents the 10 European countries involved in the International Space Station programme including the Columbus laboratory and the ATV projects (Belgium, Denmark, France, Germany, Italy, The Netherlands, Norway, Spain, Sweden and Switzerland).
Mixed fleet scenario
International Space Station operations were divided into two categories among the Space Station partners: partner-specific operations necessary for partner-owned elements and common operations necessary for the Station as a whole.
ESA agreed with the international partner on the so-called 'mixed fleet scenario', giving each partner the right to visit the Station and to resupply its own Station elements with its own space transportation systems. Independent access to the International Space Station by each partner, and in particular ESA, has been considered as an important political and operational aspect and an important financial asset in contributing to Space Station operation costs.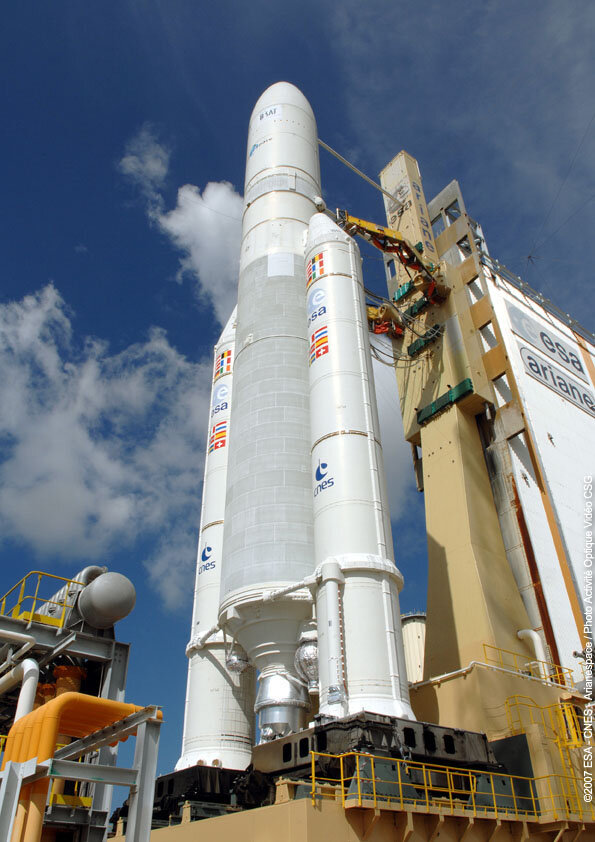 Servicing the Station
ATV used an Ariane 5 launcher to service the Station, which is another ESA-initiated programme.
The combination of the Ariane 5 and ATV allowed Europe to transport its own payloads to the Station and carry propellants, gases and other logistics goods for use by the whole Station and its international partners. ATV missions represent the European share of Station operations, and enabled the delivery of experiments and scientific facilities to the European Columbus laboratory that was added to the Station in February 2008.