Science & Exploration
ESA astronaut launched to ISS to deliver and retrieve hardware
ESA PR 20-2009. NASA's Space Shuttle Discovery was launched on Saturday 29 August for the 13-day STS-128 mission to service the International Space Station. Among her crew is ESA astronaut Christer Fuglesang from Sweden, who is performing his second spaceflight.
Discovery lifted off from NASA's Kennedy Space Center in Cape Canaveral, Florida, at 05:59 CEST, successfully reaching low Earth orbit. After one day of manoeuvres and inspection of her thermal protection system, she will rendezvous and dock with the ISS at 03:03 CEST on Monday 31 August. There, the seven astronauts from Discovery will meet the six astronauts from ISS Expedition 20, and ESA astronaut Frank De Winne, who has been onboard the orbital outpost since late May, will welcome Christer Fuglesang. This is the 15th flight of an ESA astronaut to the ISS in 8 years and the 3rd time in less than 3 years that two ESA astronauts will be onboard the ISS simultaneously.
Three spacewalks with a European flavour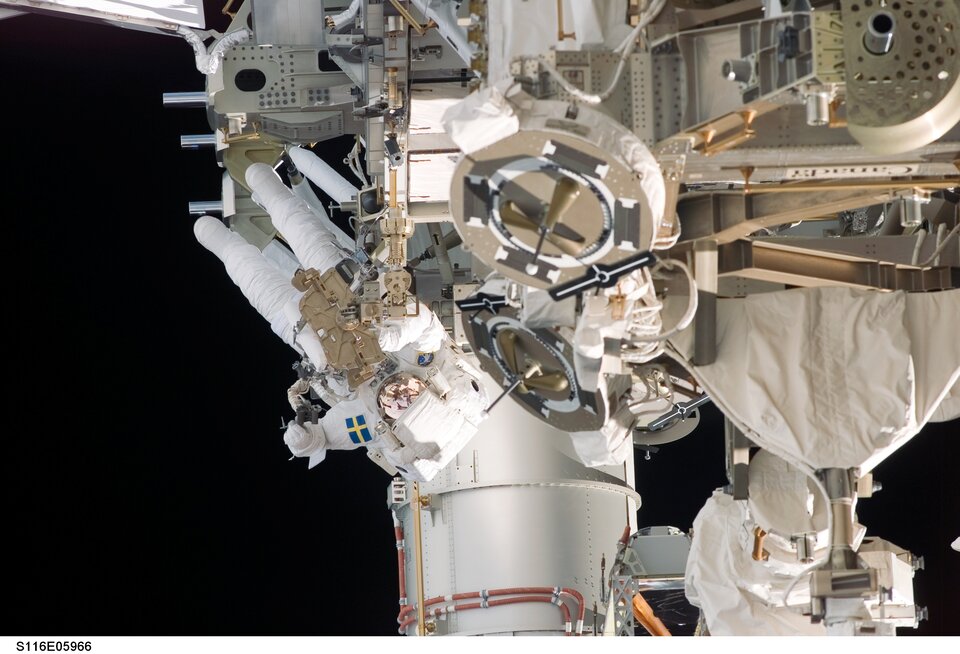 Dubbed 'Alissé', Fuglesang's mission will cover operations to be conducted both inside and outside the orbital complex. As a qualified Mission Specialist with a specialisation in Extravehicular Activities (EVAs), Christer will take part in the second and third of the mission's three spacewalks, scheduled for Thursday 3 September and Saturday 5 September, together with NASA astronaut John Olivas. The main objective of these two EVAs will be to install more than 20 metres of vital cabling outside the ISS to prepare for the arrival of the ESA-provided Tranquility Node 3 module in 2010. In parallel, the astronauts will also remove and replace a depleted Ammonia Tank Assembly (ATA) used as part of the ISS active thermal control system. At 800 kg, this will be the heaviest object ever manipulated in space by a single astronaut.
Another EVA, planned for Tuesday 1 September, will be dedicated to the retrieval of the European Technology Exposure Facility (EuTEF) – currently mounted on an external payload facility outside ESA's Columbus laboratory module – and its storage in Discovery's cargo bay for its return to Earth. This science package, which incorporates nine experiments designed to expose samples to the harsh conditions of space, test materials, analyse the near Earth orbit environment and take pictures of the Earth, has been operating for 18 months.
Deep freezing in orbit
In addition, Discovery is carrying the Italian-built Leonardo Multi-Purpose Logistics Module (MPLM), a cargo module the size of Columbus, which will be temporarily docked to the ESA-delivered Harmony Node 2 module in order to enable the transfer of racks, equipment and goods directly to the ISS in a shirtsleeve environment. Christer Fuglesang will be in charge of the payload transfer, and in particular of an important piece of ESA-supplied equipment: the second Minus Eighty Laboratory Freezer for ISS (MELFI-2), due to be installed inside Japan's Kibo laboratory to provide very low temperature storage for samples and experimental results. It will double the capacity provided by MELFI-1, which has been in operation onboard the US Destiny laboratory since 2006.
Among the other equipment delivered to the ISS through Leonardo will be food, clothes, water, and additional astronaut "sleeping quarters", also to be installed in Kibo.
"When Christer Fuglesang last flew to the ISS he was welcomed aboard by an ESA astronaut who was completing a six-month mission there. This time, again, he will rejoin Frank De Winne, who is conducting a long-duration stay in the ISS, and will soon become its Commander. How better to illustrate the strength of Europe's presence in human spaceflight?" said Simonetta Di Pippo, ESA's Director for Human Spaceflight speaking from NASA's Kennedy Space Center. "We currently have astronauts training for two more ISS increments and one shuttle flight on an ASI opportunity. At the same time our next generation of newly selected astronauts is about to start basic training. European astronauts are in space to stay and we are working hard on a daily basis to create the conditions with which to enhance Europe's role in human spaceflight and exploration also in view of the ISS lifetime extension."
"Not only do we have two astronauts in space, working together within an international crew, but we also have hundereds of scientists and engineers on the ground using the operational science facilities on board. Reaping the benefits of the investments made by ESA Member States in the ISS is now a daily reality through gathering real science data from experiments conducted inside and outside the Station," notes ESA Director General Jean-Jacques Dordain. "Our contribution to the ISS is an asset for Europe, upon which we will build up future exploration endeavours with our international partners.
Discovery is due to undock from the ISS on Tuesday 8 September, bringing back NASA astronaut Timothy Kopra from the permanent crew, who will be replaced onboard by NASA astronaut Nicole Stott, launched with STS-128. Landing in Florida is set for Friday 11 September.