Science & Exploration
Venus Express set for transport to launcher assembly building
The Venus Express spacecraft and Fregat upper-stage rocket have been prepared by the Russian launcher team for the transfer to the final launcher assembly building at the Baikonur Cosmodrome, Kazakhstan.
At 11:30 UT, the spacecraft and upper-stage rocket inside the 'fairing' (together called the 'upper composite') were put on the train in the integration building at Baikonur.
The distance between the two sites is approximately 40 kilometres and the journey will take around five hours. The train with its precious freight has to observe a very strict speed limit.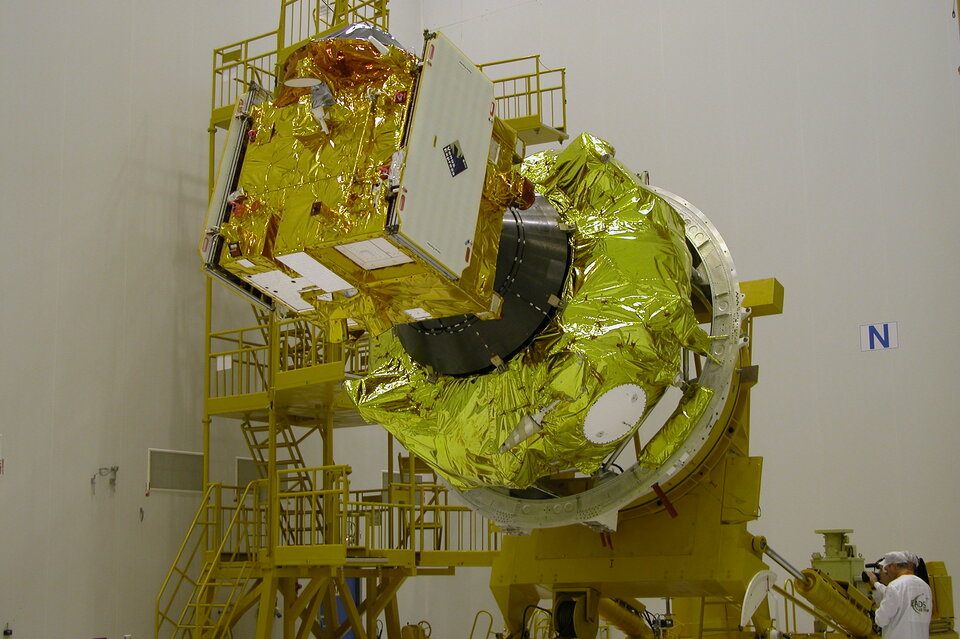 The day before, 17 October 2005, the payload 'fairing' was successfully installed on the composite of the Fregat and Venus Express. The fairing is the white aerodynamic nose cone which protects the spacecraft from damage during the rocket's ascent.
This whole unit had to be tilted from vertical to horizontal and, with both the spacecraft and the upper-stage rocket being fully fuelled, the activity was classified as hazardous.
With all this completed, the Russian specialist launch team proceeded with the installation of the fairing. The fairing was installed horizontally, and was slowly moved until eventually it covered the spacecraft as well as the upper stage.
When finally it made contact with the 'Interstage' section, which constitutes the interface between Fregat and the Soyuz three-stage launch vehicle, the Russian team could install the hinges and pushers that will control the jettison of the fairing a few minutes after lift-off.