Enabling & Support
OPS-SAT: your flying laboratory
Only 30 cm high, OPS-SAT packs a punch. Carrying an experimental computer ten times more powerful than on any current ESA spacecraft, OPS-SAT is yours to do what you want with.
With this powerful on-board computer, a high-resolution camera to take detailed pictures of Earth, radio equipment and other specialised tools, OPS-SAT makes it possible for you to perform a variety of exciting experiments in space.
OPS-SAT's mission?
To take down the barriers to spacecraft operations. We want to bring you into the heart of Europe's control centre, to share your ideas and ultimately test them out in orbit.
The world's only spacecraft freely open for public use, OPS-SAT will show us what satellites are capable of when carrying state of the art equipment, demonstrating continuing improvements in mission control capabilities and illustrating just what space technology can achieve.
Controlled via the SMILE lab at ESA's ESOC Operations Centre in Darmstadt, Germany, 'experimenters' can make use of every inch of OPS-SAT. Point the spacecraft in any direction, play with its on-board payload and get help and advice from ESA engineers who work day-in, day-out to make missions come alive.
To date, more than 100 experiments have been registered, with submissions coming from start-ups to leading space players across Europe.
Current planned experiments include:
using neural networks and deep learning to rapidly process Earth images in-flight, rather than later on the ground. This will vastly speed up analysis of events on Earth, for example accelerating the detection and real-time monitoring of forest fires,
commanding a rover using OPS-SAT as a relay, acting as a mid-way point to communicate between the rover and Earth,
using artificial intelligence to fully automate a space mission
measuring interference to different spacecraft with a programmable radio receiver
optical experiment to transmit data, securely, by laser light
Experimenters Day at ESOC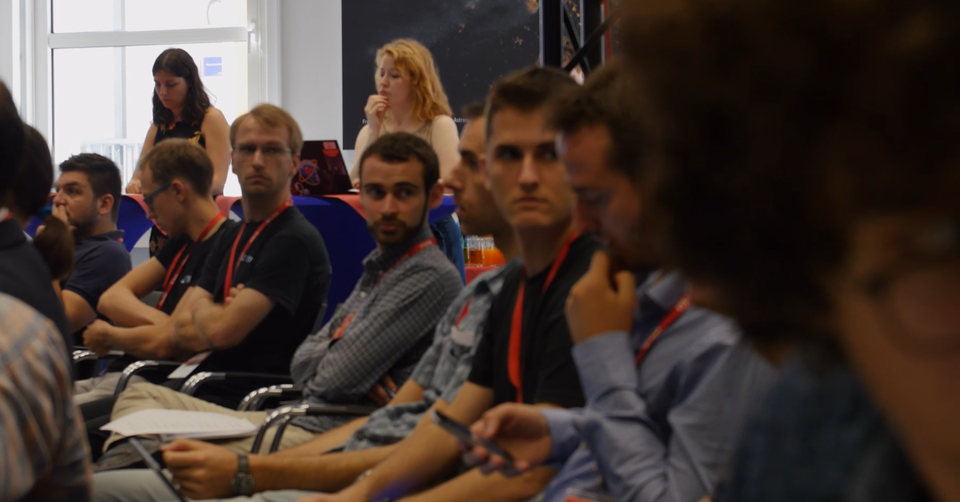 The latest Experimenters Day took place in June 2019 at ESOC, and brought together teams and individuals who successfully applied to use OPS-SAT.
The next Experimenter's Day will take place a few months after launch, currently planned for mid-December 2019. It will provide experiementers the chance to interact with the OPS-SAT team, pitch experiments and visit the SMILE control facilities, as well as network with others planning to use the flying laboratory.
Register to attend the next Experimenters Day by emailing Project Manager, David Evans, at David.Evans@esa.int.
Got an idea? Apply to fly!
Open access to all on-board resources and systems will be provided to experimenters – any ESA Member State institution or company able to carry out relevant software experiments.
To become an experimenter, please also contact David Evans, at David.Evans@esa.int.
Stay up-to-date on all the latest by registering to join the OPS-SAT community platform, here.
OPS-SAT in depth
For more technical information on OPS-SAT, click here.