Science & Exploration
ESA's pair of astronauts back on Earth
ESA PR 49-2006. Space Shuttle Discovery landed in Cape Canaveral, Florida tonight at 23:32 CET (22:32 UTC/GMT), completing one of the most complex assembly missions to the International Space Station to date, and bringing back ESA's two astronauts, Christer Fuglesang and Thomas Reiter.
Discovery's return marks the end of NASA's STS-116 mission, which delivered a new truss segment to the ISS as well as goods and equipment. For ESA, it also marks the completion of two manned missions: Astrolab with Thomas Reiter and Celsius with Christer Fuglesang.
After landing, the astronauts will undergo medical examination as part of the science experiments they were involved in conducting and the crew will return to NASA's Johnson Space Center in Houston/Texas for debriefing.
Astrolab's achievements
The Astrolab mission began on 4 July with the dispatch of ESA astronaut Thomas Reiter of Germany on the preceding Discovery flight. Two days later, he reported for duty onboard the ISS as flight engineer, thereby reopening the third permanent crew member slot which had had to be discontinued 38 months earlier, following the Shuttle's grounding in the wake of the tragic loss of Columbia in February 2003.
A highly experienced specialist in the deployment of space stations, Thomas Reiter carried out numerous operational and maintenance activities for both the US and Russian segments of the ISS. He also operated research facilities in support of international science experiments. Reiter conducted a programme of European experiments in the fields of human physiology and psychology, microbiology, plasma physics and dosimetry. He also performed technological demonstrations as well as industrial and educational experiments for universities and primary/ secondary schools.
On 3 August, he left the ISS for 5 hours and 54 minutes with NASA astronaut Jeffrey Williams to install new equipment in preparation for future assembly work and to mount a number of instruments and experiments on the Station's exterior.
During his stay onboard, Thomas Reiter tested a 3D camera and an HD camera, vividly capturing on film life inside the Station. In future, such cameras will be used to share with earth-based audiences the unique feel of living and working in space.
For Astrolab, Thomas Reiter spent over 171 days in space. Added to the previous 179 days he had already logged on the Euromir 95 mission from September 1995 to February 1996, this makes him the new European record-holder for the longest cumulative time spent in space.
Celsius prepares for ISS growth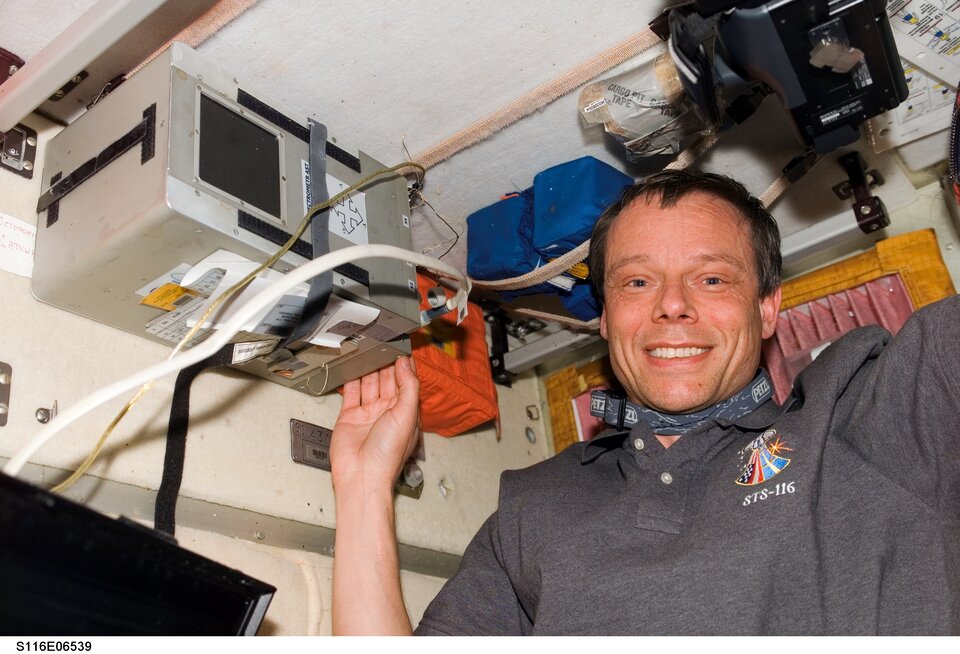 ESA astronaut Christer Fuglesang, the first Swede to go into space, was shuttled there on Discovery's 10 December launch. He spent 13 days in space and filled them with a very dense schedule.
His role as mission specialist among the NASA crew included securing the Shuttle's docking with the ISS, assisting the retraction of one of the Station's 34-metre-long solar arrays, transferring goods and equipment between the Shuttle and the Station, and releasing three tiny microsatellites from the Shuttle's cargo bay after the undocking manoeuvre.
His most important role was actually to perform three highly-demanding spacewalks. The first two, during the nights of 12/13 and 14/15 December, were part of the original schedule. They enabled Fuglesang and NASA astronaut Robert Curbeam to carry out several tasks: attach a new segment to the ISS truss; rewire power lines and thermal control loops so as to plug in a new set of solar arrays and enable the future transfer of the original set from their temporary to their permanent location; and lastly transfer tool-carrying trailers and replace a camera to prepare for the arrival and assembly of new truss segment.
The third spacewalk, during the night of 18/19 December, was a bonus. It was decided on after the crew encountered difficulties in retracting one of the Station's original solar arrays. Fuglesang and Curbeam successfully freed up the jammed array.
Health and morale for future long-duration flights
During their flight, both Thomas Reiter and Christer Fuglesang collected data on the amount of radiation they were exposed to while working inside and outside the ISS. Thanks to experiments conducted onboard with the ALTEA equipment to monitor high-energy particles crossing the skull of astronauts in low-earth orbit, and after the return to earth to check how such radiation would affect their chromosomes, these data will help scientific and medical experts to assess the radiation-related risks for future long-duration missions and notably flights beyond low earth orbit.
The Astrolab and Celsius missions also provided an opportunity to diversify the food supply onboard the orbital facility. In late November, Thomas Reiter and ISS crewmates Michael Lopez-Alegria and Mikhail Tyurin tasted and tested a special space feast prepared by the team of famous French chef Alain Ducasse as part of a programme designed to improve the quality of life on long-duration crewed space missions. Later, Christer Fuglesang brought with him some traditional Swedish food, including elk sausages and toffees, to add a Scandinavian flavour to his stay.
Europe on the ISS to stay
Astrolab and Celsius were the first in a series of ESA missions to the International Space Station, as Europe fulfils its duty as a fully-fledged ISS partner, contributing to maintenance and assembly tasks, with European modules set to be delivered.
"Thomas and Christer have demonstrated that Europe now plays a major role in the ISS operations and assembly", said Daniel Sacotte, ESA's Director for Human Spaceflight. "This is the dawn of a new era for ESA's manned space missions. We are no longer visitors in orbit; we are now among the proprietors, which means we take on our responsibilities and benefit from the advantages".
"Celsius marks a further step forward in the development of our international infrastructure in orbit", continued Sacotte. "Thanks to Christer and all the crewmembers of STS-116, the ISS is now ready to receive the new solar wings that will power the new modules, including ESA's own Columbus laboratory and the Automated Transfer Vehicle, two of ESA's highlights for next year".
In 2007, ESA plans to fly at least two more astronauts to the Station on assembly missions. It is also negotiating a flight opportunity for a third with a view to a second European astronaut being assigned a permanent crew member slot.
Already-approved contributions include the flights of Paolo Nespoli of Italy on the STS-120 mission to deliver the Node 2 module during the summer and Hans Schlegel of Germany on STS-122 to accompany ESA's Columbus laboratory in the autumn. The long-duration flight of Leopold Eyharts of France is under discussion with NASA.
In the meantime, Thomas Reiter and Christer Fuglesang will have returned to Europe by early next year. Reiter will be back in Germany in mid-January. The first opportunity for media representatives to meet and interview him and Christer Fuglesang is being arranged by ESA to go ahead on Thursday 18 January at the European Astronaut Centre (EAC) in Cologne. ESA will issue further details about this media event by early January.
For further information, please contact:
ESA Media Relations Office
Tel: +33(0)1 53 69 7155
Fax: +33(0)1 53 69 7690