Agency
Open Invitations to Tender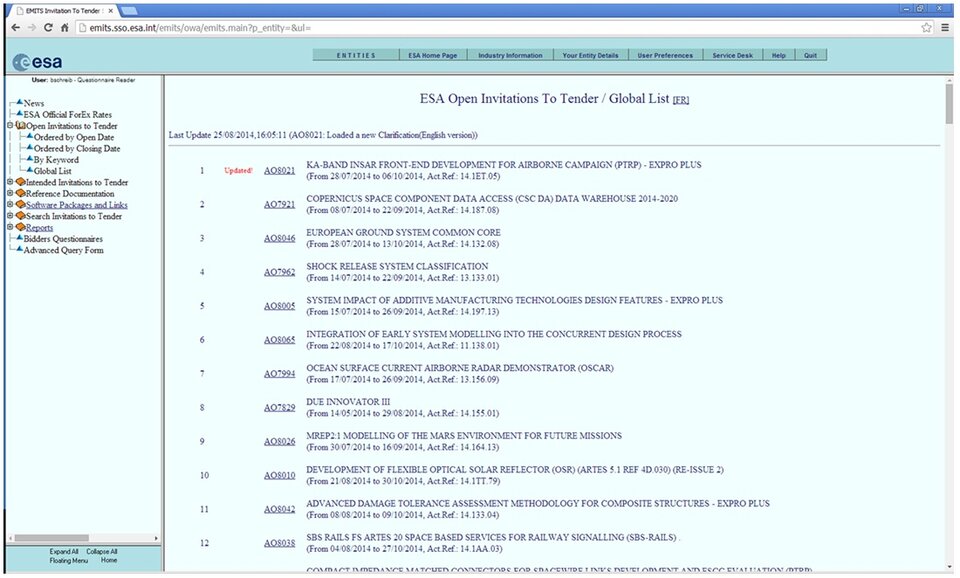 EMITS maintains a full list of all Open Invitations To Tender (ITTs). These are open to all potential bidders. For each of them, EMITS contains the full text of all documents you need to place a tender plus any associated images/graphs. The text is divided into:
A Summary of the work to be carried out and of the basic elements of the programme for which the work will be carried out
A Letter of Invitation
A detailed Statement of Work (if applicable)
Details of any Special Contract Conditions (if applicable)
Details of any Special Tender Conditions (if applicable)
Clarification(s) (if applicable)
The same structure is provided for both ESA Invitations To Tender and other Entities Invitations To Tender.
Potential bidders may use EMITS to post an expression of interest (see Expression of interest) in a particular ITT. They are encouraged to do so well in advance as this will allow them to be informed of any developments that take place. Moreover other companies can take these expressions of interest into account when establishing their strategy in replying to an Invitation To Tender.